New 3D Metrology Partners: API and MeetConsult in the Netherlands
New 3D Metrology Partners: API and MeetConsult in the Netherlands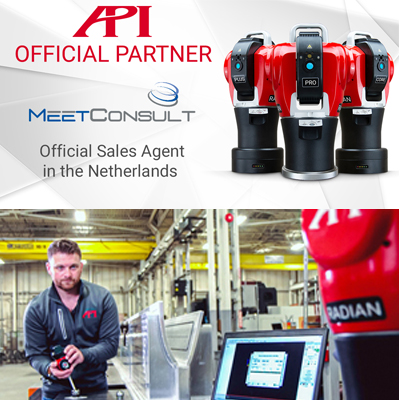 Press Release
New 3D Metrology Partners: API and MeetConsult in the Netherlands
Today, Automated Precision Europe GmbH (API) announced a new partnership with MeetConsult B.V., offering
closer customer proximity in the Netherlands and better solutions for 3D metrology tasks. Both companies are
long-standing solution providers of laser-based metrology and measurement services for a wide range of
industrial applications.
"As an API partner, we offer our customers the ability to perform industrial measurements faster and more
accurately than before," says Eelco Visser of MeetConsult B.V.. "Together with MeetConsult, API can now
supply Dutch customers with innovative mobile 3D metrology, on-site measurement services, Laser Tracker
calibration, and our attractive rental program, using more than 30 years of expertise in international markets
and development," adds Jens Pursche, Sales Manager of API. "Together, we will be able to reach interested
parties in the Netherlands better than ever for optimal support of customer tasks through on-site visits or
online demos from the API's Virtual Showroom."
For on-site or online demo appointments and further information, please contact: info@meetconsult.nl or
info.eu@apimetrology.com.
About MeetConsult B.V.
MeetConsult has sold and supported high-end survey equipment since 2004, with many years of
experience helping clients to operate 3D industrial Survey equipment. In addition to accurate optical
measuring equipment such as leveling instruments, theodolites and Total Stations, they also sell GPS /
GNSS systems with centimeter accuracy and the necessary accessories for measuring work. They will
advise you which device is best to use for your measuring activities. Upon delivery, you will receive the
customized training and full equipment set up, so you can immediately put it into production. Then
provide support remotely or on location. Further information can be found at www.meetconsult.nl.
About API
For more than 30 years, API has pioneered laser-based equipment for measurement and calibration. API
founder and CEO, Dr. Kam Lau, invented the Laser Tracker while working at USA's National Institute of
Standards and Technology (NIST) to determine industrial robot accuracies.
Today, API is a global company with its Radian Laser Tracker Series, machine tool and robot calibration
equipment, optical sensors and coordinate measuring products continuing to be the benchmark for
metrology Automation, Precision and Innovation. API measurement and calibration products are at the
heart of manufacturing organizations world-wide ensuring product quality and performance.
API provides on-site calibration and dimensional inspection services. Headquartered in Rockville,
Maryland USA, API has subsidiary operations in Germany, France, Brazil, China and India. For more
information, please visit www.apimetrology.com.